Bicycle Tour Packages
This Bicycle tour is handcrafted to give you a unique perspective of how the morning time develops in the beautiful cities. Experience street food like a local, ride your bike through to some of the most sought after locations and highly acclaimed food joints.
We love to show you all the beautiful cities in our style, The Idea is not to cover any iconic place but to show you what we like the best about these cities.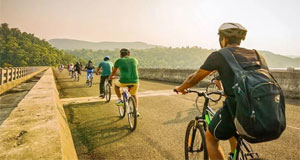 Bicycle Tour
CST Station - Sassoon Dock - Bombay Panjrapole - Mumbadevi Temple - Marine Drive
01 Days
Copyrights © 2011 B2B Hospitality Pvt. Ltd. All Rights Reserved