Bhutan Tour Packages
Bhutan, Land of Thunder Dragon is a wonderful country which is filled with hidden magic, the simple yet mesmerizing land somehow touches your heart, fill it with harmony, and even fix the broken heart. The pleasant climate, the spectacular views, and the grand monasteries, describe the beauty of Bhutan in the best way, but each word used for this stunning country is in its purest form. Visiting Bhutan will give you an immense pleasure and add up a lifetime best memories.
The main attractions of the country are Punakha Dzong- perhaps the most beautiful Dzong in the country, the Paro Dzong, Trashi Chhoe Dzong and the Taktshang Goemba (Tiger's Nest Monastery) which amazes tourists. Bhutanese like spicy food, most of the locals do not enjoy a meal if it is not spicy. Rice and chillies are the major elements of most meals, accompanied by side dishes like vegetables or pork, beef, and chicken. Ema Datshi is the national dish of Bhutan. So, do you wish to taste the tasty delicacies & gain this unforgettable experience? Yes! Contact our travel expert now and plan your relaxing trip to Bhutan.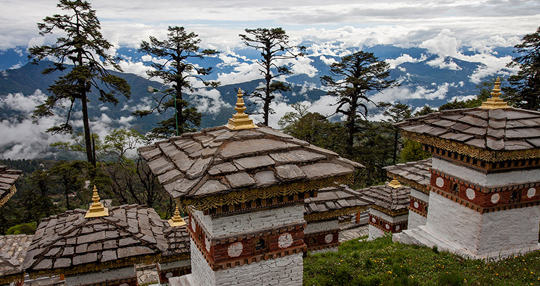 Copyrights © 2011 B2B Hospitality Pvt. Ltd. All Rights Reserved